Welcome
Visitors to the Edison & Ford Winter Estates in Fort Myers will enjoy 20 acres of historical buildings, historic gardens, the Edison Botanical Research Lab and the Edison Ford Museum. The newly restored buildings include the Edison Main House, Guest House, Caretaker's House and the Ford House.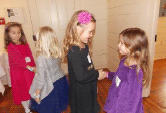 Historical records in the Edison archives show Mina Edison, wife of legendary inventor Thomas Edison, as a gracious hostess and interested in the well-being of children and the community. Following in this tradition, Etiquette at the Edison Ford, includes a one day (two hour) lesson in timeless etiquette and social skills.
---
---
Challenge the mind and foster collaboration and innovation via this eight session series in science and engineering - now for homeschoolers in Grades 1 - 8!

Advance registration required for all programs.

---
---
---
---
---
---
---
---
Emerging Inventors ♦ September 2018 - April 2019

One- to five-year old children and their parents, grandparents or other adult caretakers will explore the homes, gardens and museum of the Edison & Ford Winter Estates, enjoying story and music time, educational activities, science experiments, and learning valuable socialization skills!

Participants are encouraged to bring snacks or lunch to enjoy on the grounds after the program.
---
---
---
---
---
---
---
---