Welcome
Visitors to the Edison & Ford Winter Estates in Fort Myers will enjoy 20 acres of historical buildings, historic gardens, the Edison Botanical Research Lab and the Edison Ford Museum. The newly restored buildings include the Edison Main House, Guest House, Caretaker's House and the Ford House.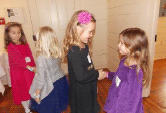 Historical records in the Edison archives show Mina Edison, wife of legendary inventor Thomas Edison, as a gracious hostess and interested in the well-being of children and the community. Following in this tradition, Etiquette at the Edison Ford, includes a one day (two hour) lesson in timeless etiquette and social skills.
---
---
Homeschool Science Scholars (GRADES 1-8)
Homeschool students explore science, engineering, history, and the world of Edison and Ford in the outdoor River Pavilion. All classes are 11am to 12:00pm.
• Grades 1-3: 2nd Wednesday of each month
Grades 4-6: 2nd Thursday of each month
Grades 7-8: 2nd Friday of each mont
---
---
---
EMERGING INVENTORS (AGES 18 months to 5 years)

Children will learn, play, and gain valuable social skills exploring Edison Ford. 1st and 3rd Tuesday of every month, 10 to 11a.m. Members: $10 or for $130 for series | Non-members: $15 /$190. Includes one adult (mask required) and one child (mask not required). Limit 6.
---
---
---
---
---