Welcome
Visitors to the Edison & Ford Winter Estates in Fort Myers will enjoy 20 acres of historical buildings, historic gardens, the Edison Botanical Research Lab and the Edison Ford Museum. The newly restored buildings include the Edison Main House, Guest House, Caretaker's House and the Ford House.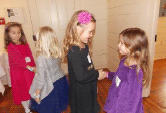 Historical records in the Edison archives show Mina Edison, wife of legendary inventor Thomas Edison, as a gracious hostess and interested in the well-being of children and the community. Following in this tradition, Etiquette at the Edison Ford, includes a one day (two hour) lesson in timeless etiquette and social skills.
---
---
If you are slated to begin this school year with students in Lee Virtual School or Lee Home Connect, we are now offering a small group setting where students can complete their schoolwork onsite at Edison Ford, working with the same education staff who run our popular summer camp program. Day to day, the Study Hall program will operate similarly to a summer camp, with parent pick up and drop off. It will run on all days which Lee County schools are open.
---
---