Welcome
Visitors to the Edison & Ford Winter Estates in Fort Myers will enjoy 20 acres of historical buildings, historic gardens, the Edison Botanical Research Lab and the Edison Ford Museum. The newly restored buildings include the Edison Main House, Guest House, Caretaker's House and the Ford House.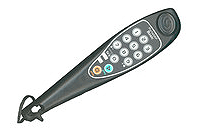 Daily (9:00 am - 5:30 pm)

Includes orientation, and a self-guided audio tour of the historic homes, gardens and laboratory of the Edison and Ford families as well as the Museum. Approximate time 2.5 hours.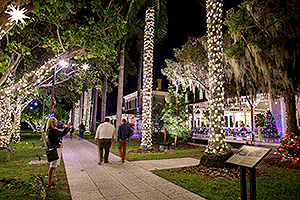 Southwest Florida's Holiday Tradition
The winter homes, gardens and historic buildings of Edison and Ford families are decorated with thousands of lights and traditional holiday decorations.
Open November 24, 2017- December 31, 2017 from 5:30-9:00pm
Children's Holiday Tree Trail with handmade ornaments created by students from Lee County Schools
Nightly Guided Holiday Tradition Tour at 6:00 and 7:00 pm (additional cost)
Inside the Homes Holiday Tour every Tuesday at 6:30 pm (additional cost, call 239-334-7419 to reserve)
Santa Visits (check website for dates and times)
Artist Doug MacGregor, cartooning with kids of all ages on Nov. 24, Dec. 9, Dec. 16 and Dec. 23
Edison Ford Museum and Laboratory open nightly
Visit Spark!Lab our newest Smithsonian hands-on exhibit
Ford Holiday Cottage Shoppe, Museum Store and Garden Shoppe open nightly
Nightly Liquid Fireworks by Waltzing Waters holiday display
Holiday Tea Celebration with the Edison's and Ford's Dec. 13 (separate ticket required)
Magic of the Holidays Science Show with the Wild Wizard (ages 6-11) Dec. 16 (separate ticket required, register below)
*Closed Christmas Eve and Christmas Day (Dec 24th & 25th)

Thank you for all your calls, emails and concern over the last few days since Hurricane Irma struck Southwest Florida.

We at Edison & Ford Winter Estates are grateful our staff, volunteers and members are all safe. All the Edison Ford structures were undamaged but the storm destroyed many trees, plants and shrubs. Fortunately, a team of professional arborists and staff members are busy working to secure the site and assess the damage to our historic gardens.
Staff and crews are working hard to open the laboratory and museum on September 30. Plans to reopen the riverside estates will be sometime in October please check our website often.
Although the site looks different, the historic landscape will be restored, replenished and replanted as soon as possible.
Many people have inquired about their memorial/celebration trees. We are currently assessing the property. Please be patient, the Edison Ford Development Office will be contacting you soon to provide you with an update.
How can you help?
Making a charitable donation to Edison Ford would ensure the restoration of the historic gardens for future generations for years to come. Thank you for your support.
The Edison Ford Homeschool Science and Engineering Series will present students with a variety of subjects that challenge the mind and encourage collaboration and innovation. Students will learn to think like Thomas Edison and Henry Ford as they explore and solve a variety of hands-on activities and learn the key concepts and strategies of science and engineering.

Cost: Members :$15 each class or $90 for all 7 class series; non-members: $25 each class or $150 for all 7 class series.
---
---
---
---
---
---
---
---
Ever wonder how to build a real robot or design a new invention? This challenging series teaches students the 21st century skills that are vital to the future.
---
---
---
---
---
---
---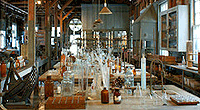 Daily (9:00 am - 5:30 pm)

Includes admission to the Museum and Laboratory ONLY. (Museum and lab admission is included in the Complete Estates Tour and the Historian Tour.) This admission offers visitors a great opportunity to see and learn the vastness of Thomas Edison's and Henry Ford's genius.
Explore creative expression and movement through song, dance, and basic yoga postures. Students will think creativerly, work collaboratively, and develop their sense of personal and shared space. Instructor Brittany Robbins is a certified yoga instructor (RYT-200). Classes are held the second Friday of each month, September through February, from 10am-11am.
---
---
---
---
---
---
I don't see it. If it was added somewhere besides as a merge-field to the list then I wouldn't know where to find it. The merge tags are by list, not interest/group (the list being 'CMA Master List' and interest/group being 'Ticket Buyers').
---
---
---
---
Cost: $20 per scout or participating sibling (parent included).

Scout programs are available to all Girl and Cub Scout groups and fulfill adventure requirements:
---
---
---
---
---
For Learners of All Ages

Did you know that Edison Ford offers classes for all ages? Join us to explore the arts, science, horticulture, technology, and more with these multi-generational programs!
---
---
---
---
---
For Artists of All Ages
Join renowned Southwest Florida artist Marie Dyer to create your own masterpiece!
---
---
---